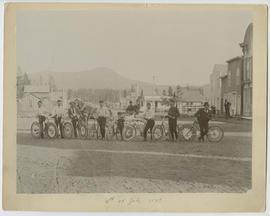 Agnes Miner Collection, Gift of Colorado Springs Ghost Town Club
About the Digital Archives

Breckenridge History's digital archives offer an exciting opportunity to engage with our holdings in a more discoverable way. Whether you are looking for mining photos, ski area brochures, materials related to fraternal organizations or the stories of the people who lived here, we have a variety of ways to find what matters most to you.

Our online collections are ever-evolving with new items that can be used for personal research, educational purposes, commercial or non-profit publications, and public display. Rights statements on how each digital object can be used and instructions for next steps are located in the item record. If you have questions after reading through the record or need further research assistance, contact archives@breckhistory.org.

These statements identify the copyright status of each digital object to the best of our knowledge at the time the materials are added:

No Copyright (Public Domain)
Reproductions of unrestricted Public Domain items are available for use without limitations. Click on the image to open in a new window, then right click to download.

In Copyright (copyrighted materials owned by Breckenridge History)
The display, publication or commercial use of copyrighted materials in any media (including but not limited to: print, digital, website, social media, television, film) requires written consent from Breckenridge History. Contact archives@breckhistory.org to request a Digital Object Request and Usage Form.

In Copyright (copyrighted materials owned by third parties)
Breckenridge History may not own copyright to some items in the collection. These materials have been made available for personal research and educational use only in accordance with U.S. Copyright (Section 108). Users must clear all rights with the rights holder(s) before any use in excess of "fair use" as defined by copyright law.


To learn more about Breckenridge History and all we offer, please visit BreckHistory.org.