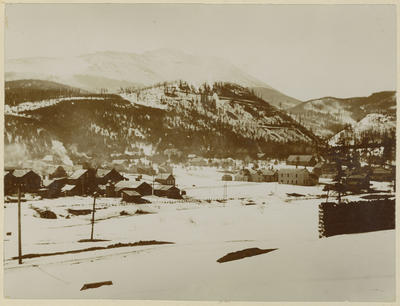 Elementos de identidad
Código de referencia
cou-bha BHA.020-037
Nombre y localización del repositorio
Título
Snowy landscape view of houses and buildings in Breckenridge, looking east at the railroad tracks on Ford Hill
Área de contenido y estructura
Alcance y contenido
Snowy landscape of Breckenridge, Colorado looking east at the railroad tracks on Ford Hill, with Bald Mountain in the background. Smoke rises from the stovepipes on wood frame buildings and houses. In view on the west side of Main Street, from left: the back of Denver Hotel's two buildings side-by-side; an unidentified structure with an angled roof; rear view of the Arlington Hotel, including the backside of its curvilinear false front; J.A. Turk and Company drugstore and saloon; and other structures and houses. Circa April 1899.
Condiciones de acceso y uso de los elementos
Condiciones de acceso
For all permitted uses, credit: "Summit Historical Society Collection. Image created by Breckenridge History, Colorado."
Acceso físico
Click on the image provided to view and/or download a high resolution digital copy. To access physical items from this collection, contact Summit Historical Society.
Escritura(s) de los documentos
Notas sobre las lenguas y escrituras
Instrumentos de descripción
Elementos de adquisición y valoración
Valoración, selección y eliminación
Elementos de material relacionado
Existencia y localización de originales
Existencia y localización de copias
Unidades de descripción relacionadas.
Descripciones relacionadas
Elemento notas
Identificador/es alternativo(os)
Área de control de la descripción
Puntos de acceso
Puntos de acceso por materia
Puntos de acceso por lugar
Puntos de acceso por autoridad
Tipo de puntos de acceso
Objeto digital metadatos
Tamaño del archivo
1.6 MiB
Cargado
12 de agosto de 2022 13:04
Objeto digital (Ejemplar original), área de permisos
Objeto digital (Referencia), área de permisos
Objeto digital (Miniatura), área de permisos