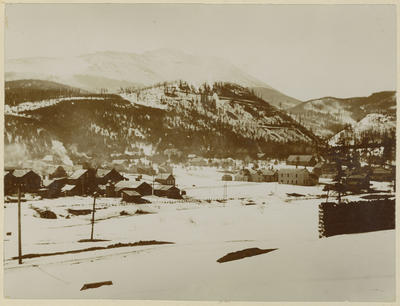 Zone d'identification
Nom et localisation du dépôt
Titre
Snowy landscape view of houses and buildings in Breckenridge, looking east at the railroad tracks on Ford Hill
Zone du contenu et de la structure
Portée et contenu
Snowy landscape of Breckenridge, Colorado looking east at the railroad tracks on Ford Hill, with Bald Mountain in the background. Smoke rises from the stovepipes on wood frame buildings and houses. In view on the west side of Main Street, from left: the back of Denver Hotel's two buildings side-by-side; an unidentified structure with an angled roof; rear view of the Arlington Hotel, including the backside of its curvilinear false front; J.A. Turk and Company drugstore and saloon; and other structures and houses. Circa April 1899.
Zone des conditions d'accès et d'utilisation
Conditions d'accès
For all permitted uses, credit: "Summit Historical Society Collection. Image created by Breckenridge History, Colorado."
Accès physique
Click on the image provided to view and/or download a high resolution digital copy. To access physical items from this collection, contact Summit Historical Society.
Conditions de reproduction
Notes de langue et graphie
Éléments d'acquisition et d'évaluation
Historique de la conservation
Source immédiate d'acquisition
Évaluation, élimination et calendrier de conservation
Sources complémentaires
Existence et lieu de conservation des originaux
Existence et lieu de conservation des copies
Élément de notes
Identifiant(s) alternatif(s)
Zone du contrôle de la description
Mots-clés
Mots-clés - Sujets
Mots-clés - Lieux
Mots-clés - Genre
Document numérique - métadonnées
Taille du fichier
1.6 MiB
Téléversé
12 août 2022 13:04
Document numérique (Matrice) zone des droits
Document numérique (Référence) zone des droits
Document numérique (Vignette) zone des droits