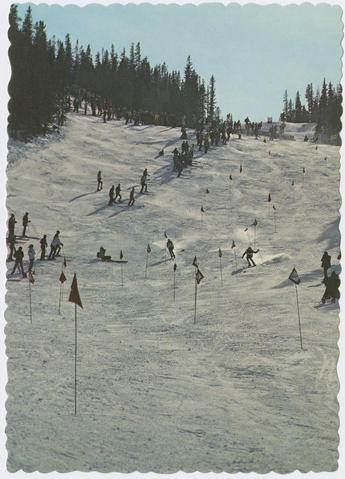 Elementos de identidad
Código de referencia
cou-bha JTS.001-003-053
Nombre y localización del repositorio
Título
Lange Cup professional ski race at Breckenridge ski area
Extensión
1 postcard, scalloped edges, 4.25 x 6 inches
Área de contenido y estructura
Alcance y contenido
Postcard, "Colorado Photography" by John Topolnicki. Scalloped edges. Caption on the reverse: "Lange Cup Professional Ski Racing" and "The excitement of head-to-head racing down a tight slalom course has given professional ski racing a rapid growth in spectator popularity and prize money. This action from the Lange Cup Race in Breckenridge, Colorado."
Condiciones de acceso y uso de los elementos
Condiciones de acceso
For all permitted uses, credit: "John A. Topolnicki Sr. Photographic Collection. Breckenridge History, Colorado."
Escritura(s) de los documentos
Notas sobre las lenguas y escrituras
Instrumentos de descripción
Elementos de material relacionado
Existencia y localización de originales
Existencia y localización de copias
Unidades de descripción relacionadas.
Descripciones relacionadas
Elemento notas
Identificador/es alternativo(os)
Puntos de acceso
Puntos de acceso por lugar
Puntos de acceso por autoridad
Tipo de puntos de acceso
Objeto digital (Ejemplar original), área de permisos
Objeto digital (Referencia), área de permisos
Objeto digital (Miniatura), área de permisos